Upcoming Performances in CA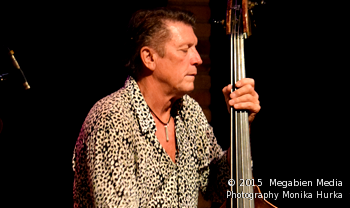 Watch out for upcoming performances of Billy Peterson at the SFJAZZ in San Francisco and the Baked Potato in Studio City.
The Anna Mjöll Allstar Sextet will be back on stage at the Baked Potato in Studio City, CA on Friday February 24. Besides Anna on the mic and Billy on upright bass, the stage will be filled by Bill Cunliffe on Keys, Clayton Cameron on Drums, Joe Elliot on Guitar and Brandon Fields on Sax.
The first show starts 9.30pm, the second show at 11.30pm. Advance tickets are available here.
The ECM Fest at the San Francisco Jazz Organization (SFJAZZ) is running from February 23 to 26 with double-bills each night. On Sunday, the last evening of the ECM Fest, the stage will be first filled by the Wolfgang Muthspiel Quartet before the Dave King Trio is taking over the stage.
The Trio´s line up includes besides Billy Peterson on Bass, Bill Carrothers on piano and Dave King on Drums.
More information and tickets available here.