Fall 2016 Gigs with Ben Sidran Quartet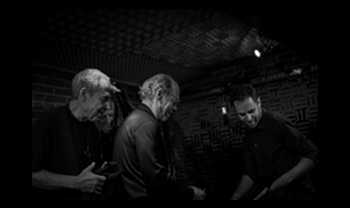 Billy Peterson is on the road again with the Ben Sidran Quartet. The European live dates for Fall 2016 are listed below.
November 3-5 - Copenhagen, Denmark at Montmartre Jazzhus
November 6 - Vordingborg, Denmark at Stars
November 9-12 - Paris, France at Sunset
November 14-20 - Madrid, Spain at Cafe Central
November 25-26 - Barcelona, Spain at Jamboree
ECM Records signs Dave King Trio for new album production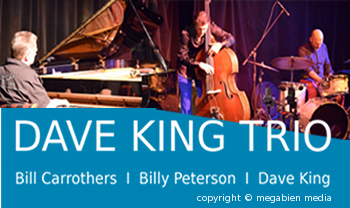 We are proud to announce that the Dave King Trio, composed of Billy Peterson (upright bass), Dave King (drums) and Bill Carrothers (piano), has been signed by the famous jazz label ECM Records to produce the trio´s second album.
The new studio album will be produced by Manfred Eicher himself, founder of the German label and producer of over 1000 albums. The recording sessions for the new album will be taking place in NY City later this year.
The trio will be presenting its new work of art at the ECM-Jazz Festival in San Francisco on the 26th of February of 2017. If you cannot wait that long, you may listen to the trio´s debut album "I´ve Been Ringing You" which was released in 2012.
ECM Records is best known for its jazz lineup, including such greats as Gary Burton, Chick Corea, Dave Holland, Pat Metheny, Charlie Haden, but the 1969 founded label is also going strong in the world music genre.
Dave King Trio Returns Back on Stage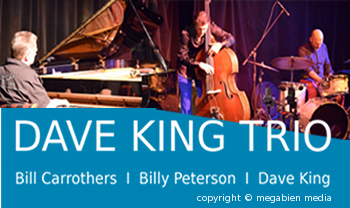 The Dave King Trio returns to the Dunsmore room for two live performances. Back in December 2015, the acclaimed trio opened the room with a prospective recording session to a sold out audience.
The conventional modern jazz trio features, besides Billy Peterson on bass, inventive pianist Bill Carrothers and creative drummer Dave King.
The group is known for playing off of each other like magic and is truly a treat to watch and listen, as they are performing standards as well as plenty originals.
"They take a noticeably free approach to rhythm, the results are worthwhile." - The New York Times
WHERE: At the Dunsmore room of the Crooners Lounge & Supper Club in Fridley, MN
WHEN: At 7.00pm daily on July 26 and on July 27. Tickets are $20.
TICKETS: For tickets and further information visit
www.croonersloungemn.com
Album Release of Duo Record "NEXT DOOR"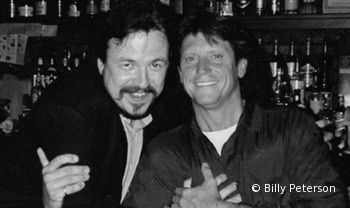 Billy Peterson and David Hazeltine look back to an ongoing musical relationship of 40 years, but NEXT DOOR is going to be their first duo album.
Besides the well chosen jazz covers like "The Boy Next Door" or "Tones For Joan's Bones", the jazz record includes also two original compositions, "Thanks Jim" and "Cedars Blues" that were written by each of the performers. The highly expected 10-track album was recorded in Minneapolis and is released on the Megabien Music label.
American pianist David Hazeltine, who has been playing professional gigs since the age of thirteen, is today considered a major jazz pianist, especially in the New York and Japanese jazz scenes.
NEXT DOOR is set for release on June 22nd 2016; the CD release shows are scheduled for 7.00pm and 9.00pm in the Dunsmore Room at the Crooners Lounge & Super Club, more information and tickets are available here.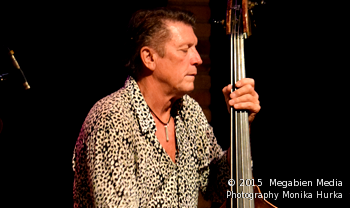 Billy Peterson is getting ready to go on tour again with the Dave King Trio. The conventional modern jazz trio features Billy Peterson on upright bass, Bill Carrothers on piano and Dave King on drums.
The tour brings them to Geneva Switzerland (March 20), followed by two performances at the Green Mill in Chicago, IL (March 25 and 26) and one gig at the Lawrence University in Appleton, WI (March 28), before they are rapping up at the Vieux Carré in St. Paul, MN (April 1 and 2).
On March 29, join Billy Peterson featuring Jason Peterson DeLaire for an intimate evening in the Dunsmore Room at the Crooners Lounge & Super Club. This will be the first time that Billy (bass and piano) is presenting a duo performance together with his nephew Jason (sax, piano and vocals), so don´t miss it. Music runs from 7pm to 10pm. For more information and bookings click here.
With Icelandic Jazz Artist Anna Mjöll
Billy Peterson will be performing with the Anna Mjöll Allstar Sextet at the Baked Potato in Studio City, CA on Saturday Feb 13. (Tickets at $25, more info here) Besides Billy on upright bass and Anna on the mic, the stage will be filled by John Beasley on Keys, Tom Brechtlein on Drum, Joe Elliot on Guitar, Doug Webb on Sax.
Two weeks later on Saturday Feb 27, Billy will be joining Anna Mjöll on stage again, this time at the Spaghettini in Beverly Hills (Show starts 9.30pm, more info here).
Iceland's jazz singer/songwriter Anna Mjöll grew up in one of her country's leading musical families, eventually representing Iceland in the famed Eurovision Song Contest. She then joined the band of Julio Iglesias, touring worldwide before setting out on her own career.
In 2010, Mjöll was voted one of the 10 best female jazz singers of the year along with Diana Krall and others by DeSouteiro's Jazz Station, and Christmas JaZZmaZ was voted Christmas CD of the Year.
Billy Peterson receives RIAA Award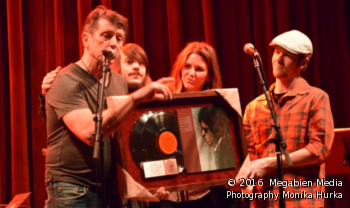 Billy Peterson received his long due official recognition for his contribution on Bob Dylan´s most successful album "Blood on the Tracks". The RIAA Award has been handed over to Billy Peterson on his birthday celebration last week.
You may ask yourself why Billy Peterson, such as all the other musicians from the Minneapolis crew, were not credited on the original album artwork? There is an easy explanation: Bob Dylan wasn´t totally satisfied with the recordings produced in New York and therefore decided to rerecord half of the tracks again, this time with musicians from Minneapolis, among them Billy Peterson. Five of the rerecorded tracks ended up on the album, but as the story goes the record label had already printed a half million of record sleeves and they didn´t want to destroy those sleeves that incorrectly only credited the New York crew. A mistake that unfortunately even carried on on subsequent releases.
"Blood on the Tracks" is Bob Dylan´s most critically acclaimed and biggest-selling album released by Columbia Records in January 1975. In 2003, magazine "Rolling Stone" ranked the album at number 16, on its list of the "500 greatest albums of all time", in 2004, it was placed at number 5 on "Pitchfork Media's" list of the "Top 100 albums of the 70s", and in 2015, it was inducted into GRAMMY Hall of Fame due to its significance for musical, social, and cultural history. The album remains one of Dylan's all-time best-selling studio releases, with a double-platinum US certification by the Recording Industry Association of America (RIAA).