Album release with MN jazz legend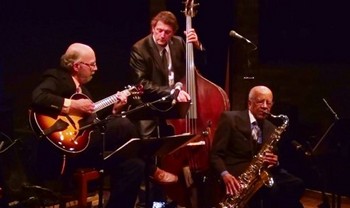 Minnesota saxophone legend Irv Williams will turn 95 next month and is celebrating together with bassist Billy Peterson and guitarist Steve Blons the release of a new record.
The new tunes of "Then Was Then, Now is Now" give jazz aficionados a chance to hear a fresh, regenerative, and unbeatable musical artistry of an exceptional jazz trio, with each of them having deep Twin Cities connections as well as international standings in the world jazz scene and far beyond.
The album release will be celebrated at the The Museum of Russian Art (TMORA) located in South Minneapolis on Saturday, 26th of July 2014 from 7:00 p.m. to 9:00 p.m.
Tickets are $35 ($25 for TMORA members), and can be purchased online at www.eventbrite.com and may be available at the door (limited seating).
At the Montreal International Jazz Festival
Once again Billy Peterson is performing at the renowned Montreal International Jazz Festival that runs from June 26th to July 6th, 2014. The festival holds the 2004 Guinness World Record as the world's largest jazz festival. This year´s festival line up includes such notable acts like Aretha Franklin, B.B. King, Ben Harper, Diana Ross, Diana Krall, Earth,Wind&Fire, Charlie Musselwhite, or Emmylou Harris.
Among them is also Ben Sidran´s "Don´t Cry For No Hipster Band" with Billy Peterson on bass. Further band members besides Ben Sidran himself (piano) include Leo Sidran (drums) and Will Bernard (guitar). Shows are scheduled for July 2nd at 7:00pm, July 2nd at 9:45pm, July 3rd at 7:00pm, and July 3rd at 9:45pm. For further information on tickets and location click here.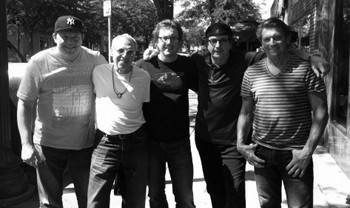 It's about time! Having been working together for some 35 years or even more, it was time to finally get this started!
Billy Peterson together with his Brothers Ricky, Paul and Nephew Jason have begun to record the "Peterson Brothers" Record! Along with Ben Sidran crackin' the whip and making it all come together!
So stay tuned, keeping you up to date on the Brothers´ progress.
Working on the Hawaiian Islands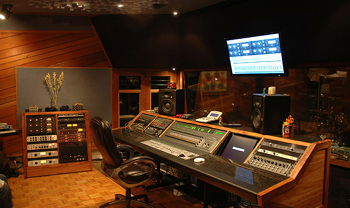 Billy Peterson is getting ready for several projects at George Benson´s old recording studio "Lahaina Sound" in Hawaii, now known as Maui Recording, together with producer/engineer Lynn Peterson.
For some of the recording projects Peterson will be joined by Mick Fleetwood (from Fleedwood Mac), Sam Ahia (native Hawaiian guitarist), and others.
Look out also for live performances on the islands, Hawaii and Mauii.
Billy Peterson is on his way to Italy, where he hits the stage with the Dave King Trio. The tour takes him together with his bandmates Bill Carrothers (piano) and David King (drums) to the northern part of Italy - performances are scheduled in several cities, among them are Naples, Palermo, Ferrara, Calabria, Vicenza, and others.
After the huge success of their first album "I´ve Been Ringing You" (2012) the trio will produce a second album later this year.
On Fall Tour with Ben Sidran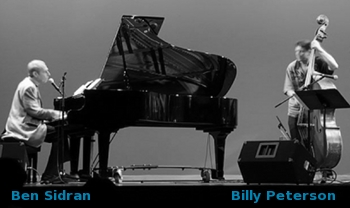 Billy Peterson just took off to join Ben Sidran on his Fall Tour "Don't Cry For No Hipster", which brings them to London, Copenhagen, Paris, Barcelona and Madrid. The band also includes Bob Rockwell on saxophone and Leo Sidran on drums.
For those of you that are not familiar with Ben Sidran, he is a pianist, producer, singer and composer, who has recorded 35 solo albums, including the Grammy nominated Concert for Garcia Lorca, and produced for such noted artists such as Van Morrison, Diana Ross, Rickie Lee Jones, Mose Allison or Steve Miller. Sidran is also widely recognized as the host of National Public Radio's landmark jazz series "Jazz Alive", which received a Peabody Award, and as the host of VH-1 television's "New Visions" series, which received the Ace Award for best music series.
Touring schedule: London: October 27, 30, 31 / Copenhagen: November 1, 2 / Paris: November 5, 6, 7, 8, 9 / Brive: November 11 / Barcelona: November 15, 16 / Madrid: November 18 - 24
At New York's Village Vanguard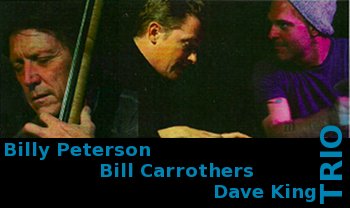 Last year, Billy Peterson made the album "I've Been Ringing You" together with drummer Dave King and pianist Bill Carrothers, which was recorded at a Minnesotan church. The full-length album shows a deep fondness for the jazz tradition, it investigates moody standards and American Songbook ballads, mostly slow and medium-tempo ballads, in rough-hewn textures. Critics just love it.
Now the New York's Village Vanguard, one of the world's preeminent jazz venues, brought the trio in for a full week in September. WBGO and NPR Music present a live video webcast and a radio broadcast of the Trio on Wednesday, Sept. 11 at 8:30 p.m. ET. To listen, click here.