2015 Grammy Hall of Fame Induction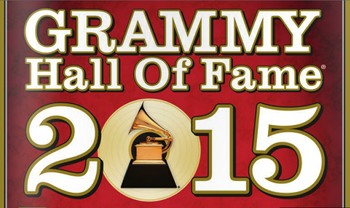 Bob Dylan´s album "Blood on the Tracks" with Billy Peterson on bass is among the 2015 GRAMMY Hall of Fame inductees, selected due to its significance for musical, social, and cultural history.
This year there are 14 songs and 13 albums added, besides the legendary Bob Dylan classic, the list ranges from "Autobahn" by Kraftwerk over Lou Reed's controversial hit "Walk On The Wild Side" to ABBA's "Dancing Queen" or Alice Cooper's "School's Out."
The Grammy Hall of Fame´s ambition is to preserve and celebrate timeless recordings; this latest induction round continues to highlight diversity and recording excellence, and acknowledges both singles and album recordings of all genres at least 25 years old that exhibit qualitative or historical significance.
The induction is celebrated at the 57th Annual GRAMMY Awards on Sunday, Feb. 8, 2015. The entire inducted catalog, now totaling to 987 titles, is on display at the GRAMMY Museum at L.A. LIVE.
Release anniversary of Blood On The Tracks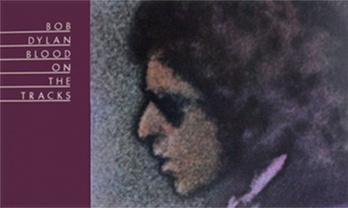 Today marks the 40th release anniversary of Bob Dylan´s fifteenth studio album "Blood on the Tracks", one of the greatest albums of all time. The album is not only the #1 favorite in a 2012 Rolling Stone Magazine fan poll of all of Dylan's albums, but it is also among the 2015 GRAMMY Hall Of Fame inductees, having been selected thanks to its influential and historically significance and timeless recordings.
Billy Peterson (bass) was among the Minneapolis studio musicians, who were called in to work with Bob Dylan in December 1974 to re-record half of an album that Dylan had recorded in New York three months earlier. But Dylan wasn't satisfied and wanted to make some changes, so a Minnesotan studio band was assembled; the re-recording sessions took place at the historic but short-lived Sound 80 studios.
It turned out that the most successful tracks in the collection—including the iconic "Tangled Up in Blue" and the merciless "Idiot Wind"—were recorded by the Minneapolis crew.
Don´t miss out the album´s GRAMMY Hall Of Fame induction at the 57th Annual GRAMMY Awards on Sunday, Feb. 8, 2015, live broadcast on CBS.
Tour with Ben Sidran Quartet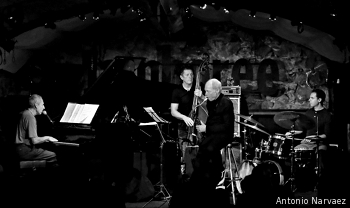 As a little warm-up Billy Peterson is hitting the stage together with Ben Sidran in Toledo, OH (Sept. 10th) and Chicago, IL (Sept. 12th and 13th) before the upcoming Fall Tour takes them once again to Europe.
The Fall Tour 2014 will be stopping at familiar places, among them the Netherlands (Amsterdam), Denmark (Copenhagen), France (Paris), and Spain (Madrid).
For more information on the 2014 Fall Tour taking place in November click here.
Album release with MN jazz legend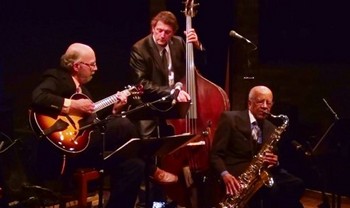 Minnesota saxophone legend Irv Williams will turn 95 next month and is celebrating together with bassist Billy Peterson and guitarist Steve Blons the release of a new record.
The new tunes of "Then Was Then, Now is Now" give jazz aficionados a chance to hear a fresh, regenerative, and unbeatable musical artistry of an exceptional jazz trio, with each of them having deep Twin Cities connections as well as international standings in the world jazz scene and far beyond.
The album release will be celebrated at the The Museum of Russian Art (TMORA) located in South Minneapolis on Saturday, 26th of July 2014 from 7:00 p.m. to 9:00 p.m.
Tickets are $35 ($25 for TMORA members), and can be purchased online at www.eventbrite.com and may be available at the door (limited seating).
At the Montreal International Jazz Festival
Once again Billy Peterson is performing at the renowned Montreal International Jazz Festival that runs from June 26th to July 6th, 2014. The festival holds the 2004 Guinness World Record as the world's largest jazz festival. This year´s festival line up includes such notable acts like Aretha Franklin, B.B. King, Ben Harper, Diana Ross, Diana Krall, Earth,Wind&Fire, Charlie Musselwhite, or Emmylou Harris.
Among them is also Ben Sidran´s "Don´t Cry For No Hipster Band" with Billy Peterson on bass. Further band members besides Ben Sidran himself (piano) include Leo Sidran (drums) and Will Bernard (guitar). Shows are scheduled for July 2nd at 7:00pm, July 2nd at 9:45pm, July 3rd at 7:00pm, and July 3rd at 9:45pm. For further information on tickets and location click here.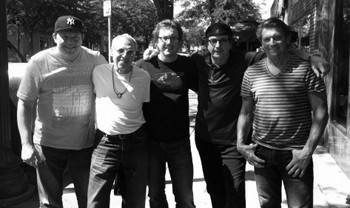 It's about time! Having been working together for some 35 years or even more, it was time to finally get this started!
Billy Peterson together with his Brothers Ricky, Paul and Nephew Jason have begun to record the "Peterson Brothers" Record! Along with Ben Sidran crackin' the whip and making it all come together!
So stay tuned, keeping you up to date on the Brothers´ progress.
Working on the Hawaiian Islands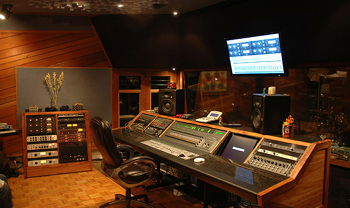 Billy Peterson is getting ready for several projects at George Benson´s old recording studio "Lahaina Sound" in Hawaii, now known as Maui Recording, together with producer/engineer Lynn Peterson.
For some of the recording projects Peterson will be joined by Mick Fleetwood (from Fleedwood Mac), Sam Ahia (native Hawaiian guitarist), and others.
Look out also for live performances on the islands, Hawaii and Mauii.