Release of new album Pinnacle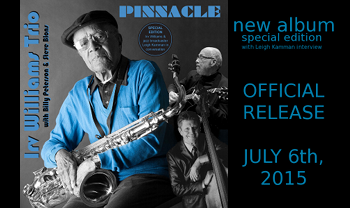 Irv Williams Trio, the trio of 95-year-young saxophone legend Irv Williams, releases new album named "Pinnacle".
This is another terrific piece of jazz music history consisting of 13 musical tracks, on which "Mr. Smooth" is joined by long-time partner Billy Peterson on bass and Steve Blons on guitar.
But that's not all. The Special Edition of Pinnacle also includes highlights of an exclusive conversation between the jazz master and late jazz broadcaster Leigh Kamman, whose career spanned over 6 decades conducting thousands of interviews with the "jazz who's who". This historic conversation gives us the chance to listen to some rare musical history and a few funny stories. Sadly, these intimate moments became Kamman´s last recorded interview as he left the scene in October 2014.
Official release is set for July 6th, 2015.
In remembrance of B.B. King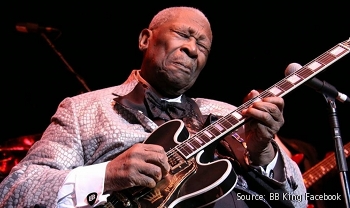 It is so sad to hear about the passing of B.B. King, the blues great who passed away in Las Vegas on Thursday at age 89.
"I was so fortunate to have shared the stage with BB back when I was working with Norling Music company, back in the late 70s as a Gibson guitar staff member with the likes of Bruce Bolin, Mike Elliot, Howard Roberts, or Larry London.
Thank you for a being a wonderful example of a life lived of "always bringing IT".
You will be sadly missed .... No "goodbyes". Just .... So long BB.......... " Billy Peterson
The Skyhiatrists rocking at Fleetwood´s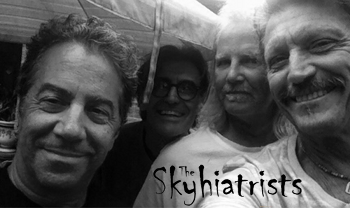 Fleetwood´s on Front St., Mick Fleetwood´s Restaurant and Bar, presents The Skyhiatrists with a rocking show on Tuesday May 12th, 6.30pm – 9.00pm.
For the Skyhiatrists, Billy Peterson is teaming up with guitar phenom Joe Caro, vocalist/guitarist Ray Gooliak, and drummer Paul Marchetti.
Guitar ace Joe Caro has performed and recorded with a long list of notable artists, among them the Eagles, James Taylor, Sheryl Crow, Michael McDonald, CSN, Donald Fagen, Pat Metheny, and many more. Bassist and multi-instrumentalist Billy Peterson is a 2-time Grammy winner with Bob Dylan and long time bassist with the Steve Miller Band, and worked with numerous renown artists such as Santana, The Righteous Brothers, Leo Kottke, Les Paul, Bonnie Raitt, or Billy Preston.
Fleetwood´s is located on Front St. in Lahaina, Maui between Dickenson St. and Lahainaluna. Come on out and enjoy a great night.
Billy Peterson working with Steve Grimes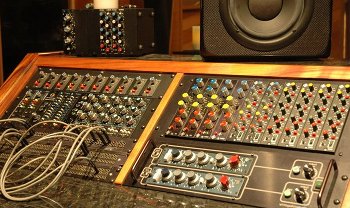 Billy Peterson is currently working with Steve Grimes on his new record.
Steve Grimes has built arch top and double sound hole flat top guitars for some of the world´s top players, such as Steve Miller, Leo Kottke, George Benson or Willie Nelson. Grimes is specialized in custom tailoring his guitars to suit the tonal, aesthetic, and playability requirements of his demanding clients.
But Grimes is also a performing artist himself. Besides Billy Peterson on bass, Joe Caro on guitar and Mike Beono on drums are contributing their musical talent to Grimes new record, while engineer Lynn Peterson is in charge of capturing the sound.
The recordings are taking place at George Benson´s old studio "Lahaina Sound" in Hawaii, today known as "Maui Recording" and run by producer/engineer Lynn Peterson. Release is scheduled later this year.
2015 Grammy Hall of Fame Induction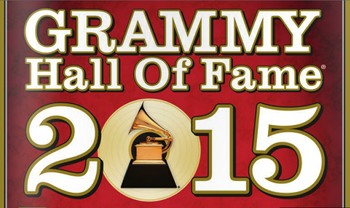 Bob Dylan´s album "Blood on the Tracks" with Billy Peterson on bass is among the 2015 GRAMMY Hall of Fame inductees, selected due to its significance for musical, social, and cultural history.
This year there are 14 songs and 13 albums added, besides the legendary Bob Dylan classic, the list ranges from "Autobahn" by Kraftwerk over Lou Reed's controversial hit "Walk On The Wild Side" to ABBA's "Dancing Queen" or Alice Cooper's "School's Out."
The Grammy Hall of Fame´s ambition is to preserve and celebrate timeless recordings; this latest induction round continues to highlight diversity and recording excellence, and acknowledges both singles and album recordings of all genres at least 25 years old that exhibit qualitative or historical significance.
The induction is celebrated at the 57th Annual GRAMMY Awards on Sunday, Feb. 8, 2015. The entire inducted catalog, now totaling to 987 titles, is on display at the GRAMMY Museum at L.A. LIVE.
Release anniversary of Blood On The Tracks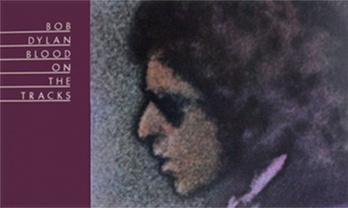 Today marks the 40th release anniversary of Bob Dylan´s fifteenth studio album "Blood on the Tracks", one of the greatest albums of all time. The album is not only the #1 favorite in a 2012 Rolling Stone Magazine fan poll of all of Dylan's albums, but it is also among the 2015 GRAMMY Hall Of Fame inductees, having been selected thanks to its influential and historically significance and timeless recordings.
Billy Peterson (bass) was among the Minneapolis studio musicians, who were called in to work with Bob Dylan in December 1974 to re-record half of an album that Dylan had recorded in New York three months earlier. But Dylan wasn't satisfied and wanted to make some changes, so a Minnesotan studio band was assembled; the re-recording sessions took place at the historic but short-lived Sound 80 studios.
It turned out that the most successful tracks in the collection—including the iconic "Tangled Up in Blue" and the merciless "Idiot Wind"—were recorded by the Minneapolis crew.
Don´t miss out the album´s GRAMMY Hall Of Fame induction at the 57th Annual GRAMMY Awards on Sunday, Feb. 8, 2015, live broadcast on CBS.
Tour with Ben Sidran Quartet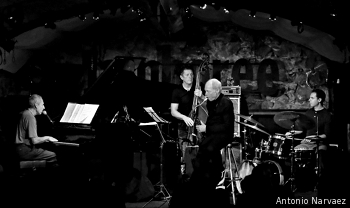 As a little warm-up Billy Peterson is hitting the stage together with Ben Sidran in Toledo, OH (Sept. 10th) and Chicago, IL (Sept. 12th and 13th) before the upcoming Fall Tour takes them once again to Europe.
The Fall Tour 2014 will be stopping at familiar places, among them the Netherlands (Amsterdam), Denmark (Copenhagen), France (Paris), and Spain (Madrid).
For more information on the 2014 Fall Tour taking place in November click here.